A Widecombe family history
When asked if there was anything he would change about Devon, Reg Hannaford responded: "Why would I change anything about what is a near perfect place to live?". Being in Reg's company is a real pleasure, within seconds you cannot fail to be inspired by his passion for the county of his birth.
Reg, the husband of Ali Hannaford, the owner of Paramount 21 Ltd and chairman of Plymouth Albion, was born in Totnes in 1957 and most of the key milestones in his own life: baptism, school, marriage and parenthood have all been centred around that area. He met wife Ali at Totnes Rugby Club and clearly their love for the game has continued, with Ali's involvement at Albion. His ancestry however is very much centred on Widecombe.
The Hannafords have lived in and around Widecombe-in-the Moor for centuries and there are many of Reg's ancestors buried in the churchyard there.
Reg has so far traced father to son as far back to 1733 to a John Hannaford of Coxlake. His son Thomas Hannaford is Reg's Great, Great, Great, Great Grandfather and was born in 1733.  Reg is determined to find out more about John and his wife Elizabeth and is inspired by a grave in Widecombe Church set into the floor of a Marjorie Hannaford wife of Robert which is dated 1673.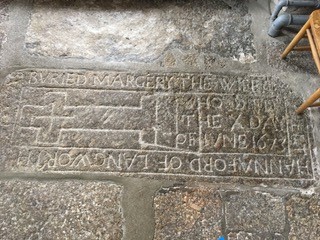 1. Grave in Widecombe-in-the-Moor church floor
Reg proudly relates that: "We have copies of church records from Widecombe that show there were Hannafords around in the early 1600s at least. There was a baptism in 1570 of a John Hannaford, son of Oliver and a Robert Hannaford, died in 1564. I can't actually link directly to any of these yet but would love to."
More recent history is easier to trace and Reg is very up to date, telling us: " My grandfather, Ernest George Hannaford  was married to Elizabeth Kernick and farmed at Higher Natsworthy Farm. He leased the farm from a Mrs Duguid, the owner of Natsworthy Manor, on the 25th June 1919 at a cost of £50 a year.  
"My father Ernest was born in December of that year. My Grandfather farmed there and with his wife Elizabeth Kernick, they brought up a family of nine. Edward and Deborah the two younger Hannaford children stayed in the converted stable block at Natsworthy Manor until approximately 1990. Both are buried in the churchyard at Widecombe along with another two of their siblings.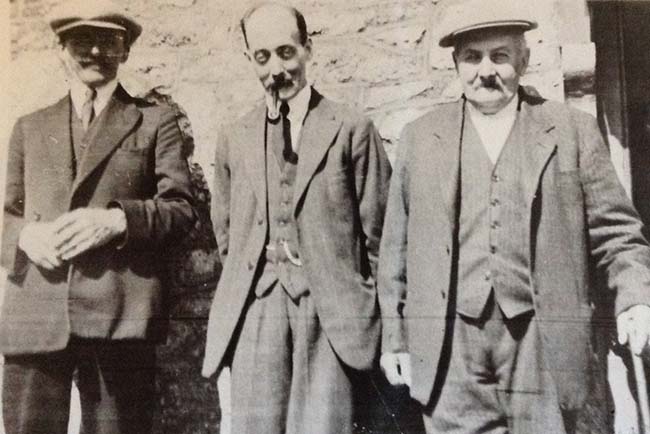 2. Hannaford family anscestors
"My oldest surviving relative is my mother Anna, who is 92. She met my father in 1944 when he was stationed in Rome during the war. She is Italian, they married in 1947 and she came back from Rome to Widecombe-in-the-Moor as a war bride."
Reg's sister Margaret lives in Rome but often comes to visit her mother and still pines for the wonderful greenness of the county.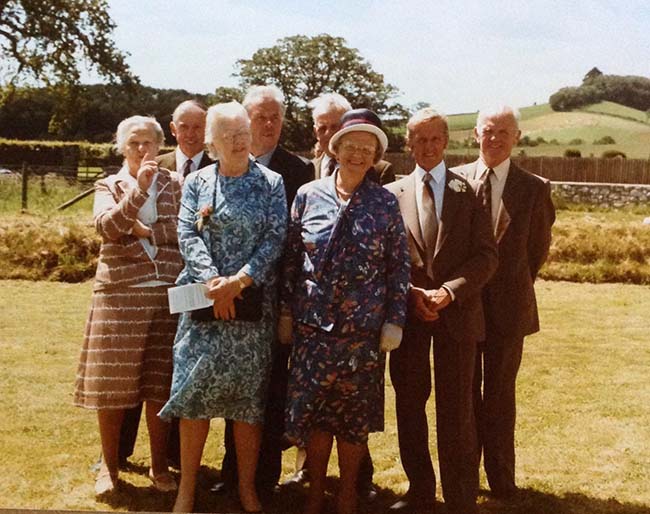 3. Taken at a family wedding this was 8 of the Hannaford 9, sadly one sister Joyce died at the age of 18. Reg's father is the first on the left back row. His aunt Deborah (blue dress) was involved in the Dartmoor Oral History compilations that the Dartmoor National Park Authority did.
Reg is an avid supporter of Devon Communities Together and the work it is doing for rural communities. On hearing of the Love Devon campaign and the Walk for Widecombe fundraising event he and wife Ali were very quick to register and are already recruiting friends to join them. As a former Widecombe Fair Cross Country Champion in 1982 he should be sure to be an early finisher although he may have to leave Ali behind as in the race he won she finished second to last! Reg has already taken part in a route rehearsal with local personality Jimmy Frost and his team of walkers.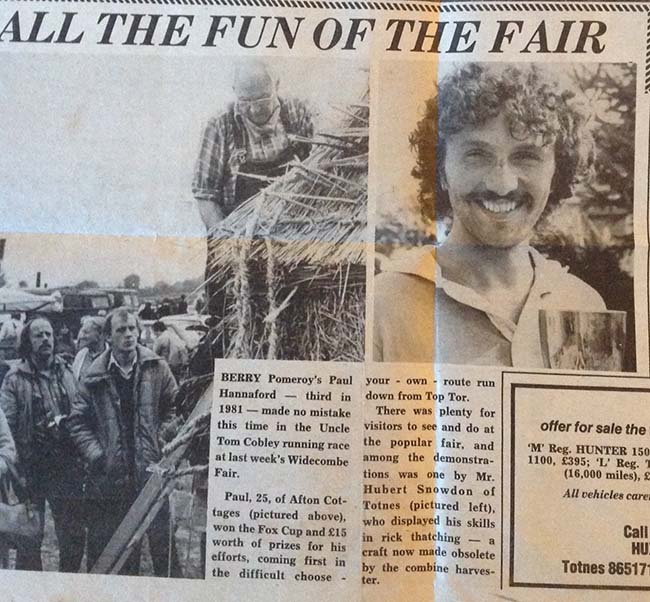 4. Local newspaper cutting from 1982 
It is easy to see why Reg will enjoy the route. He says: "My favourite place in Devon has to be Dartmoor and the Widecombe area. The family connections and a strong sense of belonging means I spend a lot of time on the moors. I'm drawn to it, it's in the blood." 
Reg does admit to having a soft spot for the coast too however, and counts Maceley Cove as one of he and Ali's favourite spots.
Being around Reg you cannot fail to appreciate his passion for Widecombe and Devon. He epitomises what "LOVE Devon" means and Reg is proud to give something back to the communities he has lived in - in particular efforts to raise a new Village Hall for the village his family history is steeped in.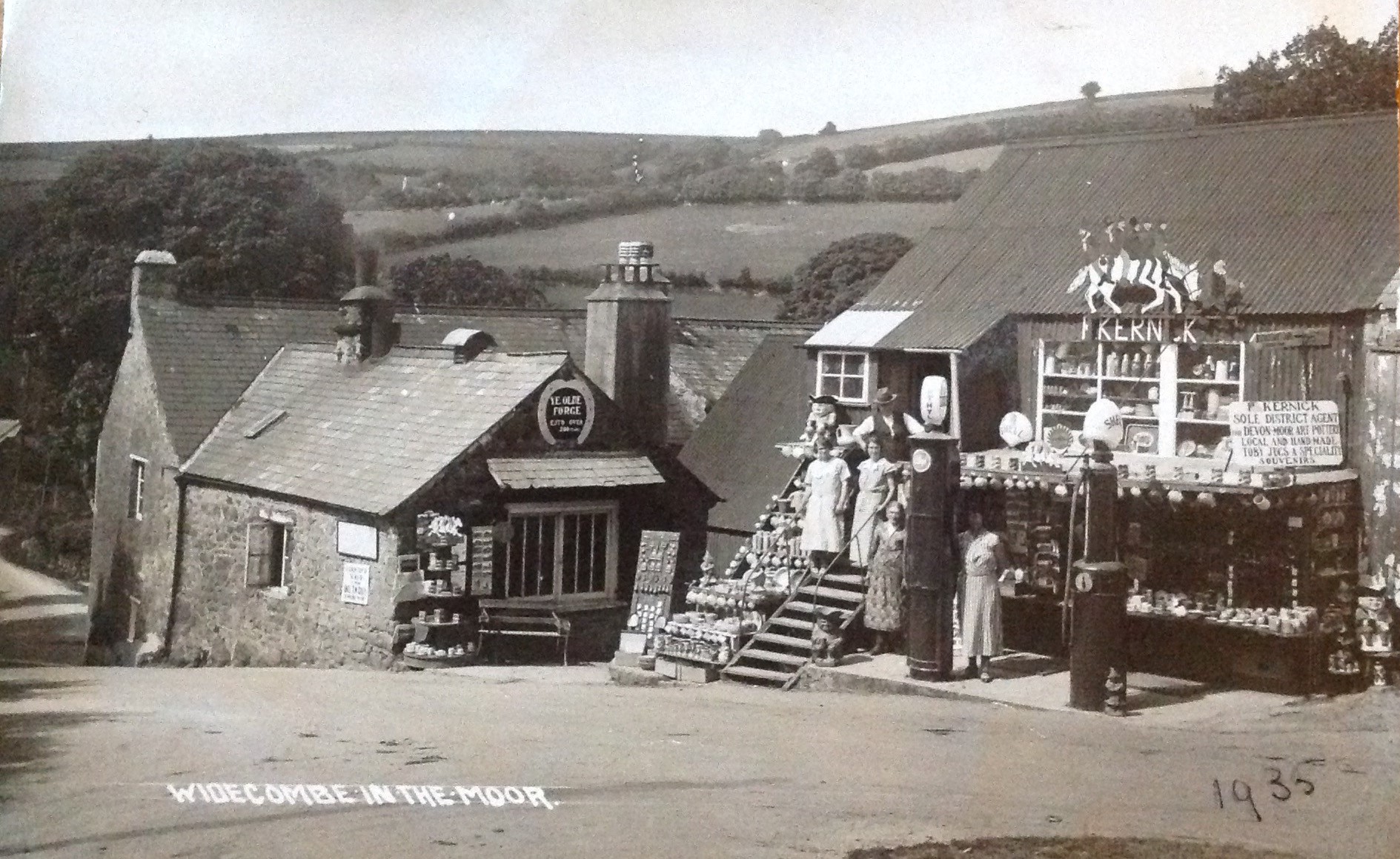 5. Kernick Stores, Widecombe-in-the-Moor, 1935