The shortage of affordable homes for local people can be a significant factor in the decline of rural facilities and services. Housing costs have soared and incomes have not kept pace with this increase.
In many areas of Devon the cost of an entry level home is more than 9 times the average income. This means that local people are often forced to leave their community to find a home they can afford. This affects people of all ages, from adult children wishing to leave home to young, growing families and older people who may wish to move to a smaller, more manageable property.

Devon Communities Together is a member of The Devon Rural Housing Partnership, a group of Local Authorities and Housing Associations working within Devon. The partnership has the combined skills to research the housing needs of communities and to work with those communities to deliver high quality, affordable housing in ways that are sympathetic to the particular needs of the community.

Our Rural Housing Team has developed a tried and tested process of working closely with our partners and rural communities to deliver affordable housing. We have a programme of work with our local authorities to carry out housing need surveys and community consultation, developing strong partnerships that will increase the provision of rural, affordable homes for local people in Devon.

Our clients include Parish and Town Councils, Housing Associations, Local Authorities, Community Land Trusts, self-build groups, landowners and private developers.

training
We regular offer training opportunities to people working and volunteering in rural affordable housing. Please visit our website page for further details. 
Housing training opportunities
Housing needs surveys
Housing need surveys are undertaken in communities to establish the level and nature of current and future housing need. This can identify the number of households that need to downsize, upsize, or simply need additional housing and can lead to influencing new housing provision in area, often specifically for people with a local connection to that parish. 
READ THE 2019 DUNSFORD HOUSING NEEDS REPORT HERE
VIEW THE DUNSFORD OPTIONS APPRAISAL REPORT
Click here for more information on Housing Needs Surveys. 
Commission the Rural Housing Team
Our Devon Community Housing Hub undertakes consultancy work in addition to the programmes of work undertaken for our Local Authority and Registered Provider partners.
Services include:
Housing needs assessments and surveys in and beyond Devon
Support for Neighbourhood Planning groups on housing issues, particularly consultation and options 
Village site assessments and options appraisals 
Community development/ engagement work 
Training and workshops 
Support to develop a Community Land Trust
Surveying of older people's housing aspirations and needs 
Bespoke reports on any issue relating to rural affordable housing 
Devon Rural Housing Partnership Annual Report: 2019-20
Read all about the Devon Rural Housing Partnership's achievements, events and updates in the latest annual report!
CLICK HERE TO READ our latest ANNUAL REPORT
The Devon Rural Housing Partnership (DRHP) Rural Housing Awards
The Devon Rural Housing Partnership (DRHP) Rural Housing Awards were presented to this year's winners at a presentation ceremony held at Denbury Village Hall on Thursday 20th February.  These awards recognise excellence and commitment in delivering affordable housing to rural communities in Devon.
This year's awards were divided into two categories:-
Outstanding Community Contribution; awarded to a particularly committed community group that have worked hard to overcome many challenges to bring affordable housing to their community.
Best Rural Development: given to the best rural development completed in Devon in the last financial year. The judges take the standard of design, consideration of the local vernacular and engagement with the local community into account.
The winner of the Outstanding Community Contribution award was Denbury Parish Council for their hard work over the last 6 years to provide affordable housing in their parish. Their main obstacle was finding a suitable site which they did by working closely with Teignbridge District Council and the Rural Housing Team at Devon Communities Together. A development of 9 affordable homes is now on site and the Parish Council have negotiated a local lettings plan in place to ensure that all of the homes go to local people.
The winner of the Best Rural Development award was Hastoe Housing for their development at Cheriton Bishop. The judges found this development to be attractive with a great sense of space. The homes are built to a high standard of sustainability with air source heat pumps and mechanical ventilation with heat recovery which keep fuel bills low as well as making the homes more sustainable. They also felt that the homes complemented the local vernacular with slate roofs and practical porches that blended in well.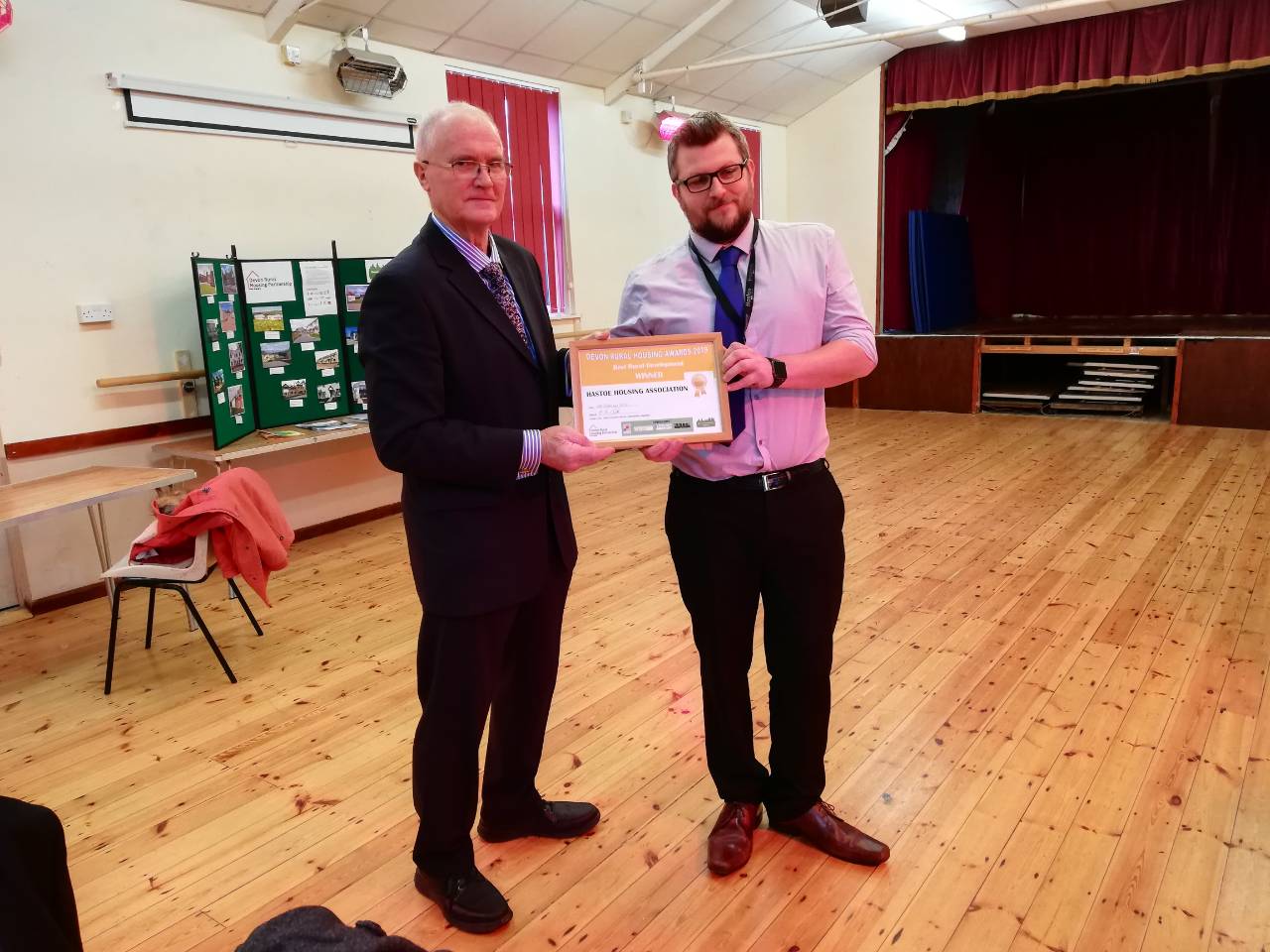 Representatives from the award winners, the local authorities, DRHP and the Wessex CLT Project who supported the Cheriton Bishop Community Land Trust throughout the development process were present at the ceremony. The prizes were presented by Ken Browse, one of the judges of the Best Rural Development award and attendees enjoyed light refreshments before and after the presentation.