average oil price is 0.7799ppl (as of Oct 2023). please contact Devon Communities Together on 01392 248919 or info@devoncommunities.org.uk to find out the exact daily price.
what is the devon oil collective?
The Devon Oil Collective is a simple-to-use oil purchasing scheme for Devon residents and businesses. As a member of the Devon Oil Collective you have consistent access to competitively priced oil without having to spend time shopping around!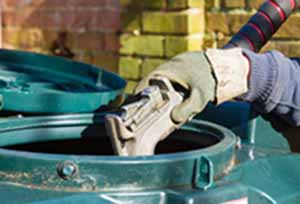 WHY JOIN DEVON OIL COLLECTIVE? 
You can take advantage of best prices without any of the hassle of shopping around - that's all done for you! 
 

You don't need to worry about getting lost in a faceless scheme either - our partners at AF Affinity, which manages the Collective, provide excellent customer service and pride themselves on treating their members "like family". 
 
By joining DOC you'll also be helping to support our work. Instead of a fixed membership fee, we are now operating a pay-as-you-order model at a rate of 1p per litre. So not only will you save money, you will also be raising money for Devon Communities Together! 
 
You will be contributing to a reduction in oil tanker miles, which is much better for the environment
 
In addition, you will have access to Affinity's preferential prices for a range of household and other items
Join the Devon Oil Collective today
faqs
Is there any cost to joining the Devon Oil Collective?
There is no fixed membership fee and no set-up cost. Instead of a membership fee, members pay 1p per litre of oil ordered, which raises money for Devon Communities Together and helps fund our work. Therefore, if you join as a member but do not place any orders, there would be no charge. 
Who administers the orders?
Devon Oil Collective runs in conjunction with AF Affinity, a large agricultural co-operative that uses its considerable purchasing power to obtain good prices from both national and local suppliers. AF Affinity Limited run similar schemes for a number of our 'sister' organisations in other parts of the country.  Once you join Devon Oil Collective, you are listed with Affinity and you can place your order directly with them.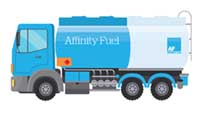 how do i place an order?
It is important to note you can ONLY place an order with AF Affinity in Devon once you have registered to be a member of the Devon Oil Collective. To join the Devon Oil Collective please click here! Once you are a member of the Devon Oil Collective you can place your orders directly with AF Affinity, by emailing devonbuying@af-affinity.co.uk or calling 01603 881888. 
Please ensure any delivery instructions are given at the time of ordering, for example if you need a telephone call the day before or you need a particular tank size.
how do i know how much my oil will cost?
Your fuel purchases will be negotiated by AF Affinity, which is part of a large agricultural co-operative and links our scheme in Devon with a number of other buying schemes in rural counties across England. Transparency in our pricing is central to all we do, which is why each month we email our members letting them know the price that oil has been purchased for and when you need to place an order by. 
When you place an order with us whether you are in Widecombe or Woolacombe, we always ensure you pay the same fixed price on the day we place your order. Prices will only change if you need a smaller tanker such as a baby tanker to deliver to your property or if you require additives in your oil; but even then, these changes will remain the same for all members on the day the order is placed. 
How do I pay for my oil?
Payments are made by direct debit to AF Affinity, rather than to whichever oil supplier tenders successfully in any particular month, allowing you a single point of contact. AF Affinity does not allow oil orders on credit, but instead offers a direct debt pre-payment savings scheme to help you spread the cost of your oil. More information is available here.
is there a minimum order quanity?
The minimum order quantity for heating oil is 500 litres. Remember to check the amount in your tank regularly.
Do you work with localised buying groups?
We encourage the formation of local oil buying groups to combine their orders, negotiate a good price and reduce 'tanker-miles'. Oil clubs are a real help to those who do not want to ring around to find the best oil price. Clubs keep suppliers on their toes and encourage them to price competitively. They can look after the more vulnerable members of their communities. If you would like support in setting up a local oil buying club, or are already in one and would like to work with Devon Oil Collective, please call 01392 248919 or email info@devoncommunities.org.uk. 
if you do not have a local club, or if you need to top-up outside of your club's cycle, AF Affinity can negotiate purchase rates on individual members' behalf so whether you're in a local group or not, Devon Oil Collective can save you money. We make sure that all members pay the same amount for their oil delivery wherever they live in Devon when they buy their oil from us.  
Is there anything else I need to know?
You will need to ensure that: 
All necessary vehicular access to your premises is clear.
Your oil tank is in good condition. All our suppliers reserve the right to refuse delivery to tanks that are damaged or not properly maintained.
You give notice for any changes or cancellations. Failed deliveries or late cancellations may incur a charge from the supplier.
You notify us of any changes in your address or contact details.
Your Boiler or AGA is service regularly.
You are specific about the product you are ordering to ensure it is compatible with your Boiler or AGA.
APPLY NOW
Please click here to apply to the Devon Oil Collective.