Donate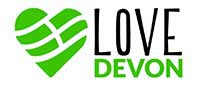 Help us #PutDevonFirst and #RebuildDevon
LOVE Devon is a way for you to show your support for Devon and donate money that funds the vital work Devon Communities Together does with communities throughout the county. Your donations really will make a huge difference to people's lives. Thank you!
You can either make a one-off donation (of any amount) via the form at the bottom of this page, or set up a regular direct debit. 
2021: DCT turns 60! COULD YOU SPARE £5 per month TO CELEBRATE 60 YEARS?
We know this is a tough year for everyone - but if you can spare £5 per month (£60 a year) you could help us make it less tough for other people in Devon. Now more than ever, Devon Communities Together needs the support of people who love Devon, to help us continue supporting communities for the next 60 years and beyond. We are asking people if they can pledge to donate £60 this year - whether that's a one-off donation or £5 per month. Thank you! 
set up a regular donation and Become a Friend of LOVE Devon!
Set up a regular donation via Direct Debit - click here 
To make a one-off donation, please use the form below. 
If your donation is in memory of somebody special and you would like to share this with us, please pop 'In memory of' and their name into the 'Organisation' field of the form. Thank you.