Why I LOVE Devon: HM Lord-Lieutenant of Devon, David Fursdon
We are delighted to have caught a few moments with HM Lord-Lieutenant of Devon, David Fursdon to find out why he thinks Devon is so special.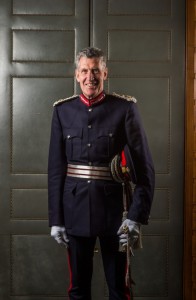 The office of Lord-Lieutenant dates from the military reign of Henry VIII when its holder was made responsible for the maintenance of order and for all military measures necessary locally for defence. Duties have evolved since then, with removal of the military from the Lord-Lieutenant's direct control in 1871. Principle duties now include arranging visits of Members of the Royal Family and escorting Royal visitors, encouragement of a wide range of voluntary activity, liaison with local units of the Royal Navy, Army and Royal Air Force, presentation of medals and awards on behalf of Her Majesty and leadership of the local magistracy as Chairman of the Advisory Committee on Justices of the Peace – among many others. 

The first Lord-Lieutenant of Devon was John Lord Russell, appointed in 1549. Since then there have been a further 26 Lord-Lieutenants appointed for the County of Devon, with David Fursdon having been in position since 2015.
Where are you originally from? I was born in Kent where my grandparents lived as my father and mother lived a nomadic life as he was in the army. The Fursdon family however are from Mid-Devon having moved there from Exeter in 1259.
What brought you to Devon? In 1978 I was married and the following year my uncle considered that I was ready to be invited to take over from him at the family home and small estate in Cadbury. His wife was not well and he found it difficult to continue to run the business. We were young, naïve and optimistic so we accepted!
What is your favourite place in Devon? It has to be the parish of Cadbury where we live. Not only is there our home but there is also Cadbury Castle (with the best views in Devon and such an intriguing history); Cadbury Church (a microcosm of English history since the 12th century) and the lanes, hedge banks, valleys and hills which give our County its special character.
Tell us about one of your fondest memories in Devon. My fondest memories are of my conversations with other Devonians. This can stretch from those who have been here for generations who tell tales of yore with a wonderful Devon accent to those recently arrived who sparkle with enthusiasm for the landscape and the activities that they encounter.
What is the one thing you could tell us about Devon that you wouldn't find in a travel book? I would paint a picture of the complete silence (apart from the wind) as you walk down a Devon lane in mid-winter in the dark with the moon shining, when the snow has drifted through a field gate leaving the grains of snow blowing off the drift in a cloud. 
What were your first thoughts after learning about the LOVE Devon campaign, which aims to raise awareness of, and funds for, community projects and services throughout Devon? I first heard about it at the Devon County Show where it was launched and was immediately supportive because this County is all about communities from the remote villages on Dartmoor to the urban communities of North Prospect.  
In one sentence why do you love Devon? Because, quite simply, it is the best place to live in the UK.