The first in-person Devon Community Resilience Forum event since the pandemic was held on 23rd May at Filleigh Village Hall, North Devon, attended by more than 40 representatives from communities throughout the county.
As part of our aim to celebrate Devon's resilience, six volunteers received certificates marking their achievements in making a difference to the local community. All of our winners were nominated by follow community members:
The overall winner was Laura Camp from Chudleigh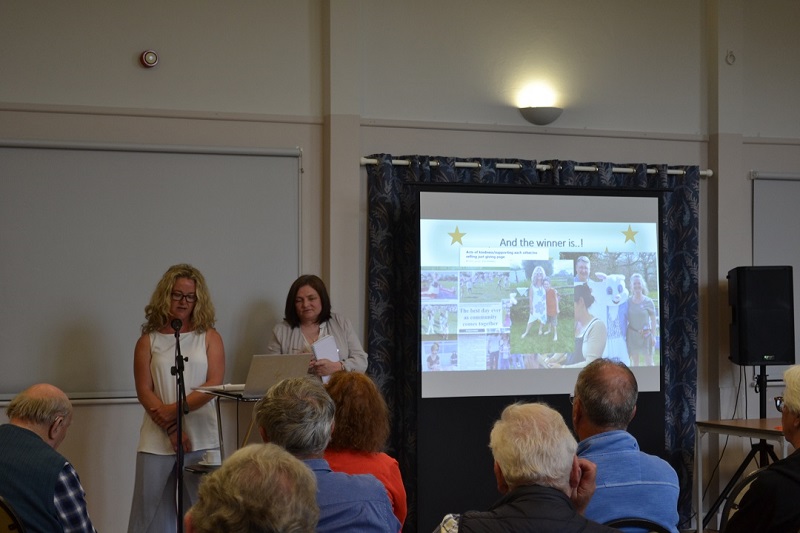 "I moved to Chudleigh on the 1st day of lockdown March 23rd 2020 and wasn't able to open my pub. Although financially challenging, it gave me the opportunity to chill out and see what was going on locally, and how the community was coping. There were several people trying different things to galvanise the community, but Laura stood out like a star as a real matriarchal figure, with a real plan to connect people, be of support, care for those that were ill, organise medicine. Soon, people were doing errands, giving lifts, gifting items that people needed, going shopping for people that were too vulnerable...
"Laura created the group "Acts of Kindness" a group where you could ask for anything, but no money was to exchange hands, merely, the act of kindness to be paid forward. Since restrictions have lifted, Laura drives the group equally hard. She has grown the group massively, registered as a charity, and organises fundraising events frequently throughout the community. I too offer my support to her and the group, and I'm right behind the sentiment of paying kindness forward.  Life isn't easy for her either, being a single mum with twins, and one of them being autistic. Check out her Facebook group and you will see what I mean, especially if you go back to the lockdown posts. If only every community had someone like her!"
other volunteers honoured were:
Paul Bailey from Burrington
"Paul has been on the Parish Council for more than 40 years, likewise on the hall committee working tirelessly to build the hall into the splendid hall it is today, by organising, obtaining grants and collaborating with others. Paul has also worked hard on the Methodist Chapel, now being treasurer, the Burrington Church Buildings Trust which looks after the fabric of the Church, the Bethesda Graveyard Trust and has worked with his wife Susan to raise awareness of Alzheimer's in the Parish. Paul works tirelessly for all the committees and bodies he is part off, being very hands on with practical work along with getting grants and overall being someone to go to for help or information. Paul is always willing to help the community."
Chris Underwood from Welcombe
"Chris went out weekly to collect and deliver prescriptions to parishioners at a time when the pandemic was at its most dangerous, this meant visiting two doctors' surgeries in Hartland and Bradworthy."
Di Mitchell from Lynton
"Di has been an absolute star since 2020 in the local community. She almost singlehandedly ran the Food Bank established specifically under her stewardship to combat COVID issues in this isolated community. Then having run the Foodbank and Community support services linked to it she moved on to be the lynchpin between the communities of the Lyn Valley and the NHS and their providers to operate a vaccination centre in Lynton Town Hall. All this as an unpaid volunteer."
Richard Bence from Welcombe
"Richard was an enormous support to me when the pandemic started. He put many hours into setting up an online ordering system so that people could order from the village shop instead of having to go out, he helped me coordinate the team of volunteers for various tasks such as prescription collection/ delivery, sorted the IT side of things, designed and ran a weekly quiz night via zoom for the village and ensured we had an up-to-date list of vulnerable and shielding parishioners. He also provided advice for a neighbouring parish to assist them to do similar things."
Tanya Hussell from Filleigh
"Tanya has co-ordinated Hallshare, the communications network for community buildings in Torridge and North Devon. During the lockdowns she kept the e-communications between halls operating as a dynamic source of guidance and information-sharing that helped halls manage the covid regulations and apply for support funding. Through her efforts many halls were able to operate over longer periods and more effectively then were they not helped. Her dissemination of information enabled many halls to receive covid relief funding that they initially thought was not applicable to them. Village halls are often an essential element of community resilience and Tanya's consistent efforts to encourage halls to progress and improve have enhanced their impact on their communities."
Mick Gates from Welcombe
"Mick planned and implemented Welcombe Parish Council's Community Emergency Response Plan in the pandemic. Mick led the CER Team with great skill, and put in months of voluntary work, often long hours per day, to make sure that everyone, especially the most vulnerable people, in the village was as safe as possible. Mick has both military and professional health and safety expertise which he applied voluntarily to the community's benefit. He advised community projects and individuals how best to ensure their health safety when the dangers of coronavirus were very serious but uncertain, giving freely of his expertise. Mick ensured that the CER Team had the relevant training and equipment and coordinated implementation and review of the CER Plan to all our benefit. Mick is highly deserving of an award to recognise his achievement in contributing to Welcombe's resilience."
presentations
Attendees benefitted from presentations and workshops from a host of experts, all of which can be downloaded and viewed using the links below:
Met Office - Flood Preparation
Environment Agency - Understanding Flood Risk
Met Office - Community Resilience
Met Office - Communicating Weather
Environment Agency - Community Resilience Hub
Devon Community Resilience Forum
Devon County Council - Rapid Response 'type' Catchments