Did you know Devon has around 440 Village Halls, most of them run by community volunteers? For many years Village Halls have provided vital services in rural areas; they help address rural isolation and loneliness and promote wellbeing by offering a variety of workshops, talks, and fitness classes, and provide meeting spaces for local groups. They also organise a wide variety of social get-togethers from coffee mornings to music nights. In addition, many Halls are also the designated place of safety during emergencies for communities.
Village Hall Committee Members and Trustees are all volunteers dedicated to serving their local communities by keeping Halls up and running. They often face challenges such as fundraising for building maintenance and new equipment, finding new volunteers, digital upskilling, organising new events, and keeping up to date with an ever-changing world of legal matters.
The nature of rural Village Halls means Halls can be several miles apart, so volunteers from different Halls are remote from one another. They rarely get the opportunity to meet up to discuss common issues or challenges and share good practice and success stories.
In September, sixteen representatives from nine South Hams Village Halls and Community Buildings met together at South Pool Village Hall to discuss the possibility of forming a networking hub, with messages of support from an additional ten other Halls who were keen to be involved in the future.
The Village Hall committee members at this initial meeting were all in favour of forming a network to enable each other to keep in touch, share news of forthcoming events, and help each other with queries and common issues. In smaller groups, they discussed how they would like the network to work, identified common concerns to address and training they would like to receive in the future.
Quotes from attendees on the day were:
"We felt a bit on our own; it's great gathering together to share the stories and learn from each other. Very useful!"
"Thank you very much for this opportunity to connect."
"Lovely to meet up and share ideas. Very positive. Thank you."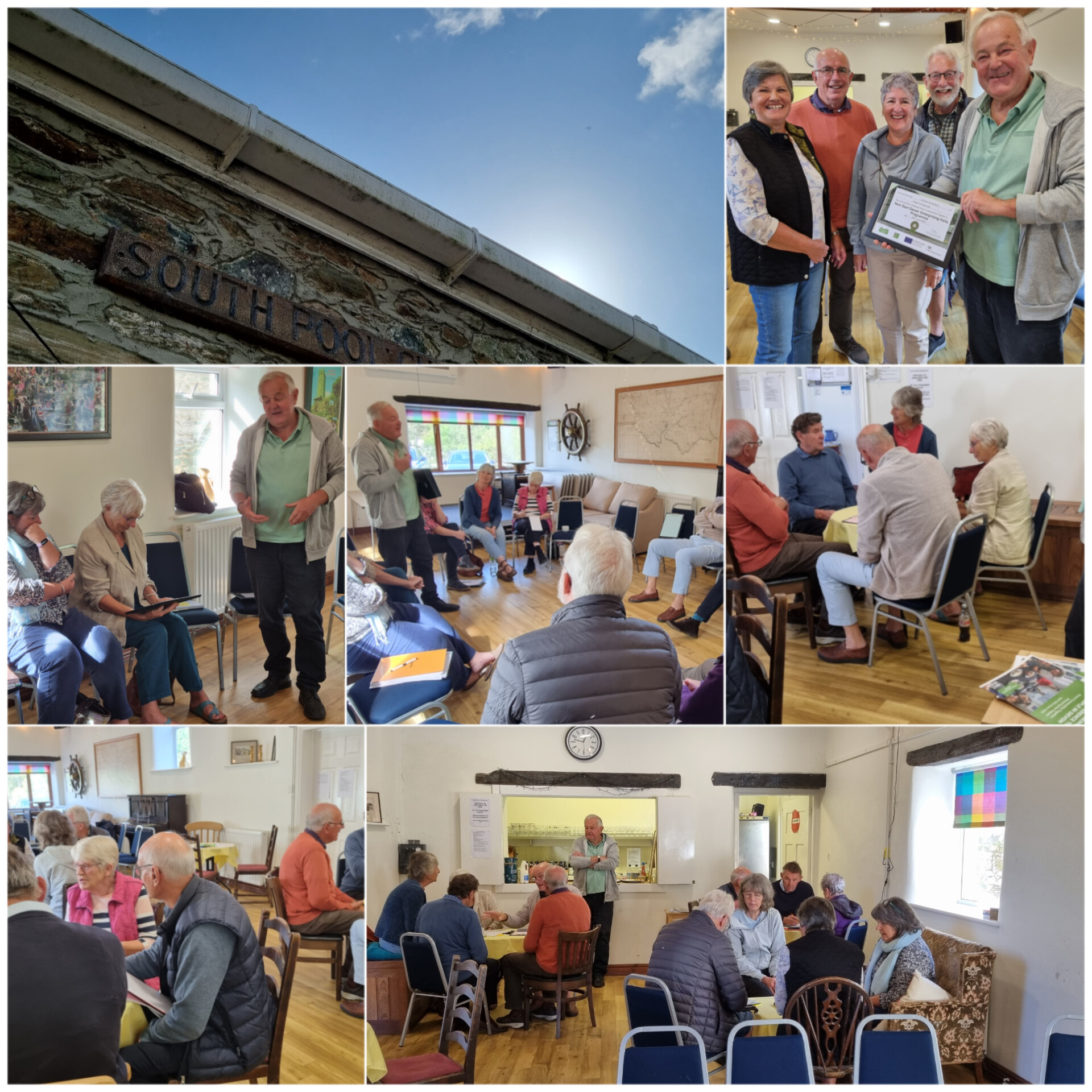 The group decided to meet twice a year, keeping in touch via email in between. The next meeting will be held in March 2024 during the national Village Halls Week. During this week, the group are also hoping to host an event at their individual Halls to help raise the profile of the important work of Village Halls in the South Hams.
The charity Devon Communities Together were also present; representative Martin Rich described how they had supported Village Halls for many years with a wide range of advice from funding opportunities to advice on specific policies. Victoria Grimberg explained the role of the increased Village Halls and Community Buildings Advice Team which aims to provide advice and support to Village Halls and Community Buildings across Devon.
There was also the opportunity for volunteers to meet informally over coffee where friendships were forged with invites to visit each other's Halls. Everyone is looking forward to meeting up again in March 2024 and participating in Village Halls Week. They hope they will be joined by committee members from more South Hams Halls, who are very welcome to attend.
The attending Halls were: Berry Pomeroy, Dartington, Dittisham, Frogmore, Kingston, Sherford, Slapton, South Pool, and Stokenham. Halls sending their apologies, and hoping to attend in the future: Aveton Gifford, Bridgetown, Charleton, East Portlemouth, Holbeton, Stoke Fleming, Strete, Modbury, Roborough, and Yealmpton.
Any Village Hall/Community Building can become a member of Devon Communities Together from £24-£50 a year. This gives access to support and advice to trustees and management committees on a range of issues such as charity structures and constitutions; operational requirements (e.g. hire agreements, health & safety policies, safeguarding, licensing, fire regulations); funding and project planning for upgrading, extensions and new-build projects. For more info visit: https://www.devoncommunities.org.uk/about/membership/join-devon-communities-together
Village Halls Week takes place 18 th-24th March 2024. For more information visit: https://acre.org.uk/campaign-save-the-date-village-halls-week-2024/