Leaving London for Beer
Helen Follett of the Beer Coastal Community Team shares her experience of leaving London for Beer – and never looking back. 
One of the last conversations I had with my darling Dad before he sadly passed away was his hope that I would slow down (his words, not mine). He always used to worry that I was going to burn out or make myself ill working so hard. My memory of this conversation is as sharp as it was when we had it in October 2014. We were having a cuddle and he said to me 'I wish you would slow down sweetheart. I worry about you working so hard and love you'.
His passing away was the single hardest event of my life. Unfortunately six weeks after my Dad died, Barry's father followed and on New Year's Day 2015 I found myself on Rightmove browsing houses with potential income.
It was just a research trip in March 2015. Honestly it was! It was really a 'just to be nosy' trip, to see what 'might be possible'. Little did we think we would find the house of our dreams or that on the Sunday evening we would be having a conversation along the lines of 'shall we put in a cheeky offer?'.
On Monday Garlands was ours. On Tuesday our Woking house went on the market. On Wednesday it sold to a cash buyer. By June we moved four doors down to a rental house in Woking as Josh needed to finish his A levels that year, and a van moved half our life to Beer. Our life changed dramatically!
When Barry's mother sadly passed away in August 2015 we realised again that LIFE IS TOO SHORT! Whilst we can never bring our darling parents back we can make sure that we learn from heartbreak. My goal was to 'create a life I don't need a holiday from' and I certainly found this in Beer.
In August 2016 I handed in my laptop and security pass and left the corporate world of Human Resources. I was ready to leave. I was stressed, burnt out and exhausted despite actually loving my job and the people I worked with.
There are no traffic lights or roundabouts in Beer. On my walk to the village there's actually no pavement or street lights! On my commute from Woking to Hammersmith there were 42 sets of traffic lights and 15 roundabouts. I had to travel on A roads, the M25 and the M3. When I took the train to work I had to stand all the way. In the winter I would travel to work in the dark and leave in the dark. I could literally spend the whole day with no fresh air. I would eat my lunch Al Desko. I would ping awake at 5am already thinking about the number of emails that had arrived overnight from Denver.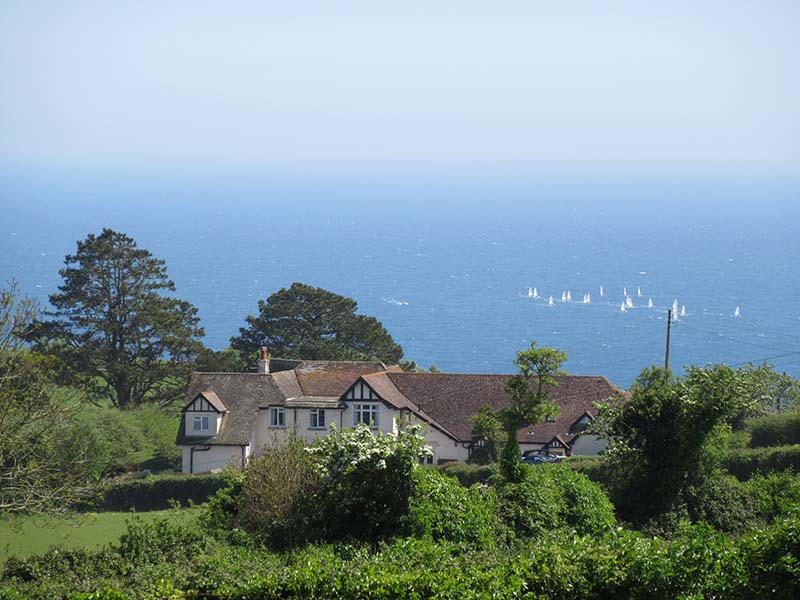 What a difference my life is now. We've been truly welcomed and embraced by our stunningly beautiful village. Here are 10 reasons I love Beer -
The bubbling brook and wonderful flowers that line it in the spring. The brook runs down both sides of the village and it's said that you're not a man until you have fallen into it as a boy!
The fishing boats, deck chairs and cafes on the beach. There's nothing like having a cup of tea at Ducky's in the summer, and then sitting for an hour or two in a deck chair with the sun on your face and watching the fishermen. You can buy your fish fresh from the sea at the shed on the beach.
 Having a coffee at the Bay View Tea Rooms and then browsing in the little gift shop.
The selection of wine and tapas at Osborne's, scones from Woozie's deli and yummy fish and chips from the Beer chippy.
Browsing in Cinderella's dress shop run by the lovely Diane.
Social events at the Beer Sailing Club; dinners cooked by Grant, all with a great view of the beach from the terrace.
The walks along the South West Coast Path, especially the one from Beer to Branscombe where you end up with coffee and cake from The Sea Shanty café on the beach.
The numerous activities and clubs there are to join – Skittles, Book Club, Games Club, Film Club, Seriously Occasional Singers and Fitness Fusion. I could be out every day and night of the week if I wanted to be.
Our famous Beer Quarry Caves and Pecorama which houses the Beer Heights Light Railway.
Our wonderful new friends, who have made us feel so welcome to the village. They've helped make our transition from city to village life so easy.
So, no regrets at all to leave London for Beer. I have everything I want here in this glorious piece of heaven in East Devon.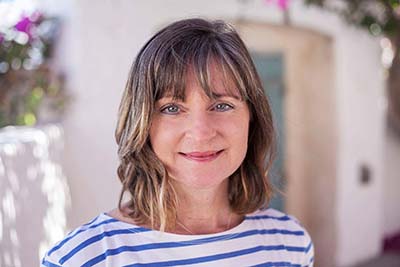 Helen Follett leads the Beer Coastal Community Team which exists to support Beer village to continue to prosper for people who live in the village, local businesses, day trippers and tourists. She is also the Chief Holidaymaker of The Folletts at Beer, three holiday cottages with stunning sea views out to Lyme Bay.