In her own words, read Stacey's inspiring story as a participant in our New Start Devon business coaching project.
If you're interested in accessing free business coaching for your start-up or enterprise, please contact matthew.porter@devoncommunities.org.uk. 
"When I was made redundant from my full-time magazine job back in 2009, I immediately got another job working at a publishing house in Bristol but I was no longer writing about interior design.
"I decided to set up an interiors blog so I could keep my hand in the industry while trying to get another job at an interiors magazine. In the meantime, my blog grew to become one of the top 10 interior design blogs in the UK (currently ranked number 2) and is now read by 12k people per month.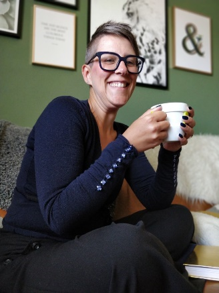 "I always imagined that my blog could be my fulltime job one day and that was my dream. However, as time went on, I ended up with part-time job after part-time job alongside my blog and could never find the courage to drop those jobs and focus solely on my blog. I was terrified of being fully in control of my own income and not having a regular wage. I was also afraid of losing the love for my blog if it was my sole income.
"When I was almost made redundant again in December 2018, I decided to quit anyway and finally make a go of making a full-time living from my blog. But I decided I needed a business coach as I'd been stuck in this cycle of inaction for a decade, seriously undervaluing myself and undercharging and felt I needed help to get some clarity on achieving the goals that I had not been achieving for years. I really wanted to stop feeling disappointed in myself and to finally fulfil my potential.
"After the initial meeting with Matthew in August 2019 and our conversation about the past 10 years of my career, it really made me reflect on where I was in life, where I wanted to be and the blocks and barriers that I was putting in front of myself. When I went away and had a long hard think about it, I realised that I love my blog, it's my passion and I never want to stop writing, but for a long time I've felt like there is something else I should be doing, something that would help people and that would use my other skills and gifts.
"When I met Matthew again for my first coaching session in September I had realised that what I really wanted to do was set up a coworking space for creative female entrepreneurs. I talked through my ideas and vision with Matthew and also the reasons why I had not acted on this idea before. We talked through my fears and the personality traits that hold me back and how I always talk myself out of the things I want to do for fear of failure. I did not want my fear of failure to hold me back anymore.
"When Matthew made me write down "I will not talk myself out of this", this was a turning point for me and I knew at that moment that I had to go ahead with my plan. Throughout the following sessions, Matthew helped me to work out what I needed to do to make this coworking space a reality.
"We set tasks for me that I needed to do by our next appointment. Because I was now accountable to someone other than myself, to someone I really respected, I absolutely had to do all those things. Because of this, things moved really fast and I was able to make amazing progress. In less than four months from the decision to go down this route, I created a brand identity, built a website, built a social following, networked with my target audience, built a mailing list, found a venue, decorated it and kitted it out and finally opened my coworking space.
"We've been open for two weeks now and I have already made 1/3 of the money back that I need to make to cover the rent. When I look back I actually can't believe that I have achieved all of that in less than four months. I would never, ever have been able to do that without Matthew's help. He helped me to stop listening to my inner critic and to realise that actually there is no such thing as failure only success and learning. He also helped me to see that my fear of failure is actually totally irrational as I've never actually failed at anything I have really wanted to achieve when I've actually tried to do it.
"My coaching sessions with Matthew have honestly changed my life and given me so much more confidence in myself. I have already been recommending his coaching sessions to friends I know are in a similar position feeling stuck in their business."