Devon Maternity Voices Partnership
Help Shape Maternity services in devon
We Need Your Help To Improve Maternity Services in Devon! 
Feedback and Surveys
 
Could you be our next Vice Chair for North Devon? Find out more here
Join our MVP
Would you like to be more involved in Devon MVP? Joining the MVP membership list is:
Completely free
Zero commitment
You can join our membership list by completing our membership form below:
Joining our membership list means you:
Will be emailed about upcoming MVP meetings so you can come and share your views and experience
Can have your say about MVP decisions such as elections and policy changes
Can be emailed about MVP opportunities, such as taking part in a survey or focus group, or becoming a service user rep.
Please share with friends who you think would like to join in the conversation about maternity care in Devon - you don't need to have been to any previous MVP meetings to join.
We are confirming our membership list as we have several upcoming votes and are planning to start having virtual meetings soon. If you are unsure if you are already on our membership list, please do fill out the above form and we will make sure you are.
If you have any questions please email info@devonmaternityvoices.org.uk
Inclusivity in Devon Maternity Voice Partnership
At Devon MVP we want this group to be a space for all to feel included and safe no matter how a person identifies themselves.
We welcome and respect all pregnant people into the MVP and we do not believe this diminishes women's rights.  We are here to represent all service users and this includes birth partners.
We are committed to supporting and including those who are most affected by discrimination and are committed to becoming an anti-racist organisation. We are always here to listen, learn and change to make this happen.
Any behaviour which we believe to be abusive or discriminatory will not be tolerated.
MEET THE TEAM
Follow our socials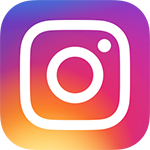 Coronavirus: frequently asked questions for people using maternity services
Coronavirus: FAQs for people using maternity services
 
Pelvic Girdle Pain
Read about some of our ongoing work in looking at PGP/SPD care here. 
Breastfeeding support groups in devon
Do you have questions about breastfeeding? Would you like to speak to a peer supporter for some advice? Please visit the Devon Positive About Breastfeeding website for a list of the universal (free) breastfeeding support groups in Devon.
Breastfeeding support groups in Devon
Free online antenatal, postnatal and parenting courses for parents and carers in devon
Parents and carers in Devon can now access award-winning online antenatal, postnatal and parenting courses for FREE!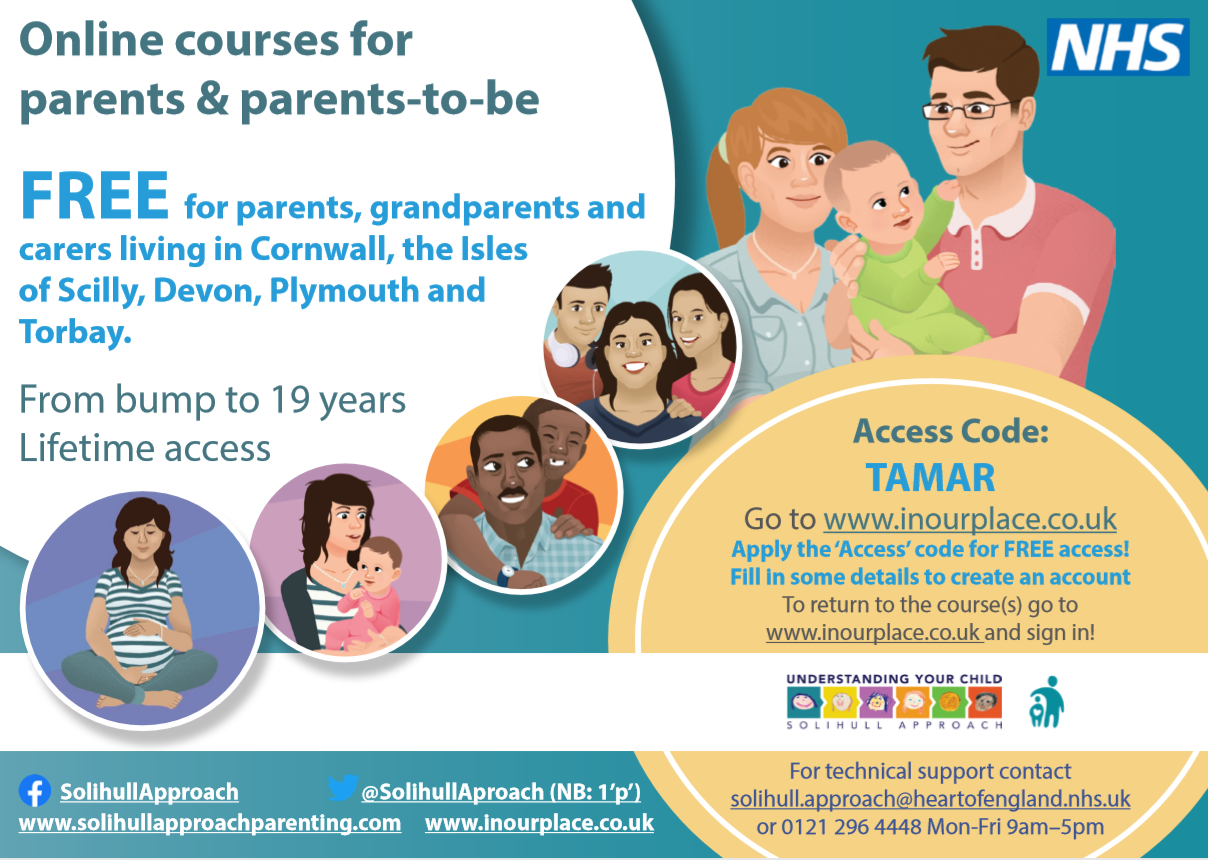 To start learning, follow the link below and enter the code: TAMAR for free access.
Free online antenatal, postnatal and parenting courses
There are four courses, designed by health and education professionals:
Understanding your pregnancy, birth, labour and your baby
Understanding your baby
Understanding your child
Understanding your teenagers brain
If you have any questions email: d-ccg.cornwallanddevonsolihull@nhs.net
About Devon Maternity Voices Partnership (MVP)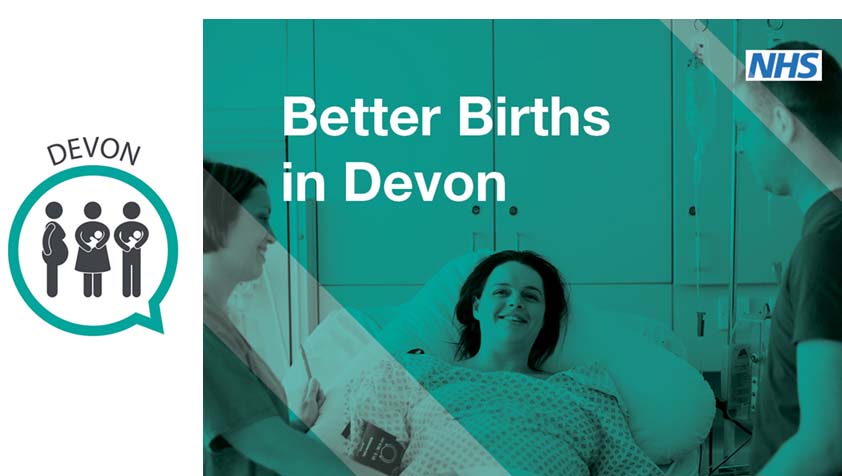 ---
Devon Maternity Voices Partnership (MVP) is a collective of parents (and parents to be) providers of maternity services (health professionals, charities, Healthwatch, non-health professionals) working together to review and contribute to the development of local maternity care across Devon.

What is the role of an MVP?
The role of the MVP is to support parents (including parents to be) and maternity service providers to share their experiences and work together to continually improve maternity services. 
How can I find out more about Maternity Voices Partnerships (MVPs)?
You can learn more about MVPs from nationalmaternityvoices.org.uk.
Who will make up the Devon Maternity Voices Partnership?
•  Local women who are currently expecting a baby or who have had a baby recently 
•  Representatives from voluntary groups who support pregnant women and new parents
•  Representatives from Devon Clinical Commissioning Group (CCG) who pay for and monitor services
•  Healthcare professionals working in the community and the Hospitals across Devon such as senior midwives, obstetricians, neonatologists, health visitors, GPs and staff from the local authority, children's centres.
How you can get involved?
Get involved with Devon MVP, help shape and review maternity services in Devon. You can decide how involved you would like to be. There are different ways of participating depending on your interest and available time:

• Share your experiences of maternity services on social media (T:@DevonMaternity F:Better Births Devon) or by email to info@devonmaternityvoices.org.uk, and look out for future events to attend
• Join and represent women and families on the Devon MVP partnership (terms of reference coming soon)
• Collect maternity stories, experiences, insights and recommendations from your community which we can feedback on your behalf
• Host a local gathering. We want views from the different geographies of Devon (this could be through an existing group you already attend e.g. a baby group, or perhaps you have an idea for your own gathering 
• Champion a particular aspect of maternity services. Perhaps you are passionate about homebirths, or as a dad you are interested in support for fathers. If you feel strongly about a particular element of maternity services and are interested in getting others involved in this topic please get in touch, we would love to hear from you
• Be involved in maternity service quality improvement initiatives eg a 'Walk the Patch' in  your local maternity unit

Why get involved? 
• By sharing your experiences and volunteering some of your time you can help shape maternity services in Devon
• Help to make sure that all voices, including those whose voices are less easily heard, contribute to the development of maternity services in Devon.
• Help to make sure we are looking at topics which are important to parents and taking recommendations on how maternity care can be improved
HealthWatch Devon
Devon MVP is working with HealthWatch Devon, Plymouth and Torbay to capture your feedback on maternity services. You can access the online questions here: 
Devon:
healthwatchdevon.co.uk/haveyoursay.
Plymouth:
https://www.healthwatchplymouth.co.uk/services/derriford-hospital-plymouth
Torbay:
https://healthwatchtorbay.org.uk/services 

All feedback is confidential and the information provided is used to shape and improve maternity services. As an MVP we don't discuss individual cases or handle complaints – we look for themes in feedback and for good ideas for improvements. We are keen to hear from anyone who would like to get involved as a volunteer or give feedback. Please contact us via the details below.
Contact us 
For more information about Devon MVP
Email: info@devonmaternityvoices.org.uk
Twitter: @devonmaternity
Facebook: DevonMVP
Download our latest leaflets here: