Children's artwork competition!
Keep the children entertained and help get their creative juices flowing!
As part of our 60th anniversary celebrations we want to celebrate not only our past but also our future - and the generations that will look after our beautiful county for the next 60 years and beyond. That's why we're asking children in Devon to create a picture that shows us their favourite part of Devon and why they love it.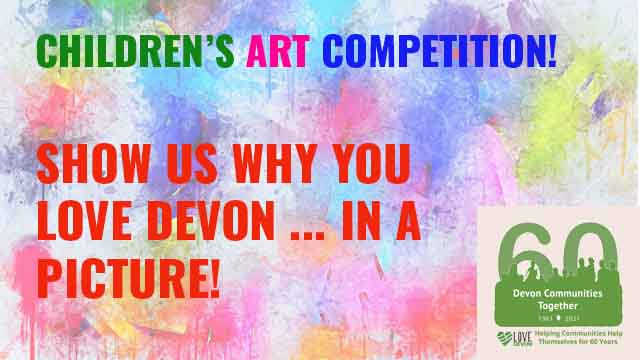 The winning picture will feature on the cover of our 2021 LOVE Devon magazine, which will be published in May. We want it to be bright, colourful and eye catching, but above all we want it to be a celebration of living in Devon!
Is it building sandcastles at the beach? Maybe it's scrambling over rocks on Dartmoor? Perhaps it's playing in their own back garden? It could be a local park or even a special street or landmark... we want to see what  children love about living in Devon and view their favourite Devon spots through their eyes. 
The competition is open to any school aged children (aged 4-16), with a category for primary (4-11) and secondary (12-16), with one overall winner. The winning entry will be featured on the cover of the magazine and also on our website.
prizes
Thank you to the local businesses that have supported this competition by donating some fantastic prizes!
Overall winner will be featured on the front cover of LOVE Devon magazine 2021
Category winner (4-11) - 2 tickets to Pennywell Farm 
Category winner (12-16) - £50 Go Ape gift card (kindly donated by Chris Coward)
Runners up prizes include: 2 tickets to Combe Martin Wildlife and Dinosaur Park, an adult and child pottery experience from Tarka Pottery; and a child's workshop prize from Costal Craft; 4 x family tickets (2x adults 2x children) to Bicton Park Botanical Gardens and a £25 ice cream voucher from Orange Elephant Ice Cream Parlour!

 
how to enter:
The artwork can be a painting, a drawing, a collage - anything they like! 
It must depict the entrant's favourite Devon location - but beyond that, anything goes!
The original artwork can be any size but please ensure that it is in 'landscape' format. It will be printed on an area around the size of a postcard, but we can shrink it down to size!
Once your child has finished their picture, please either scan it or photograph it as clearly as possible, and email the image to marketing@devoncommunities.org.uk. Please keep the original picture somewhere safe, as we may need it if you win!
Please also include the following details with your submission:
- Child's name, age, home city/town/village, and school (optional)
- Parent's name, email address and contact phone number
- A sentence on what the picture represents and why it's a favourite Devon spot!
closing date: 1st april 2021
Terms and conditions 
All entries must be received no later than 01.04.21. The competition is open to children living in Devon aged between 4 and 16 only. By entering the competition you are agreeing to Devon Communities Together using the artwork and your child's name, age and school appearing in our magazine, on our website, on our social media channels and any other publicity materials as required. The overall winner and runners up will be chosen by Devon Communities Together and the decision will be final. The winners and runners up will be contacted by Devon communities Together no later than 13.04.21. The overall winning entry will be displayed on the front cover of LOVE Devon magazine. Any other prizes will be given at the discretion of Devon Communities Together. Entrants' data will be stored securely by Devon Communities Together for the purposes of this competition only. Data will not be shared with any other parties.